Some of the Hakametsä Ice Arena's parking areas are subject to a charge during league games. The paid parking area is the asphalt area in front of the arena, marked yellow in the map. The gravel area and practice hall parking areas are free.
Paid parking begins two hours before the game. Parking is controlled by the City of Tampere Parking Control during the game.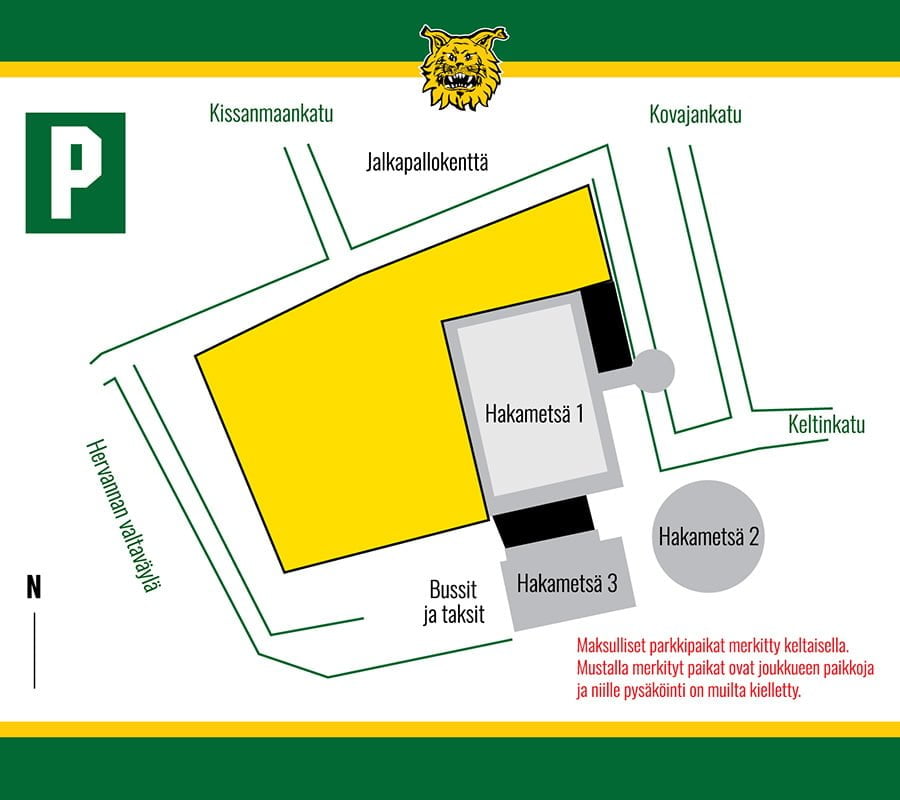 ---
Parking card for games in the 2019–20 season:
The parking card for the entire season costs €99. The card is valid for both the regular season and playoffs.
Parking slip for an individual game:
Game-specific parking fee €5. You can buy a parking slip either from the advance sales locations or the arena ticket office. A parking slip/card is used at the arena in the same manner as in any paid parking area:
A parking slip bought online in advance must be printed out.
If you buy a parking slip from the arena ticket office, take it to your car before you enter the arena.
Leave the parking slip on the dashboard for the duration of the paid parking period.
You can also use the Moovy mobile app for parking.
Moovy parking at Hakametsä
1) Download the Moovy app from Google Play or the App Store.
2) Fill in your information.
3) Set the parking time for the duration of the whole game using the slider.
4) Start parking.
The parking fee is €5 + Moovy service fee €0,49.
Learn more about the Moovy service: moovy.fi